FOUR-DAY VIPASSANA RETREAT
Friday 10th to Monday 13th April 2020

Bodhi Tree Forest Monastery & Vipassana Retreat Centre is located at Tullera, 7 minutes from Lismore in Northern New South Wales.
This is a silent residential retreat and participants are advised to arrive on the afternoon of Friday 10th April so that they can settle in prior to the start of the retreat at 7 pm, which finishes on Monday 19th April at 2 pm.
There'll be instructions on the basics of Insight meditation, i.e. sitting, walking, and awareness during one's daily activities. Emphasis will be on applying this knowledge, together with practical strategies, to both the intensive retreat practice situation and integration it into everyday life.
If already experienced, this retreat can benefit you by providing an opportunity to work with the teacher through any difficulties and clarify any questions regarding your meditation practice in one-to-one interviews. So there will be opportunities to receive feedback on your practice from the teacher in a supportive environment.
This retreat should increase your confidence and ability to self-manage and further develop your practice, particularly when applying these meditation skills to daily life.
Vegetarian meals are offered during the retreat. No charge is made, however, a donation or Dana towards costs is appreciated.
Please make a booking by filling in the Booking Form below  . . .
Mindfulness Meditation Workshop
Sunday 5th April, 2020 9:00 am to 3:00 pm 
This workshop will include teachings from an Australian monk, Ajahn Tiradhammo as well as Ven. Pannyavaro.
A simple vegetarian midday meal will be provided. No charge is made for the workshops, however, a donation towards the cost and support of the retreat centre would be appreciated.
To make a booking fill in the Booking Form below and email it to us
If you're not comfortable with the online form, you can book by phone
ph: 02 6628 2426
Mindfulness Mentoring
with Ven. Pannyavaro at Bodhi Tree Forest Monastery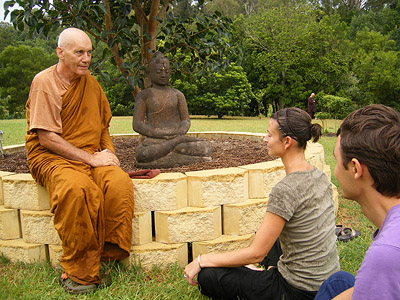 To people who have or are willing to make a commitment to the practice of Satipatthana Vipassana in the Mahasi Sayadaw tradition, mindfulness meditation mentoring is being offered by Ven. Pannyavaro (Pannya), the Abbot and resident teacher at Bodhi Tree.
Selective students will be taken on with personal instruction and mentoring on a one-to-one basis. To qualify for this unique experience one must be prepared to follow instruction and be unreservedly committed to the practice over the long term.
The decision as to who will be accepted will be made by the teacher who has been a Vipassana practitioner since 1974, having studied and undertaken long periods of intensive practice with teachers in the Mahasi Sayadaw tradition in Myanmar.
Potential students who are interested can contact Bodhi Tree Forest Monastery and Vipassana Retreat Centre, located at Tullera, 7 minutes from Lismore, and make an appointment either by phone (02) 6628 2426 or email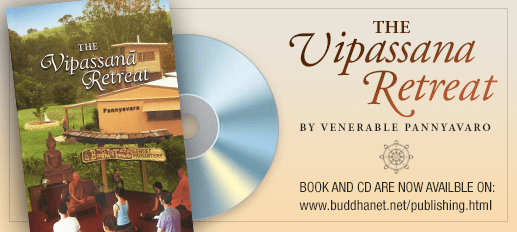 The book "The Vipassana Retreat" with an audio CD, by Ven. Pannyavaro
is available by donation from www.buddhanet.net/publishing.html
---
BOOKINGS
For all retreats and workshops:
Please read the Course Information and download the Booking Form below and either email or post it to: Bodhi Tree Forest Monastery 78 Bentley Road, Tullera via Lismore NSW 2480.
PDF: Word Doc: Retreatant Booking Form
Word Doc: Retreatant Booking Form
PDF Retreatant_Course_Information
Word Doc: Retreatant Course _Information Map with Directions to Bodhi Tree PDF (399 KB)
No charge is made for Bodhi Tree Retreats and Workshops. The cost is covered by donations or Dana.