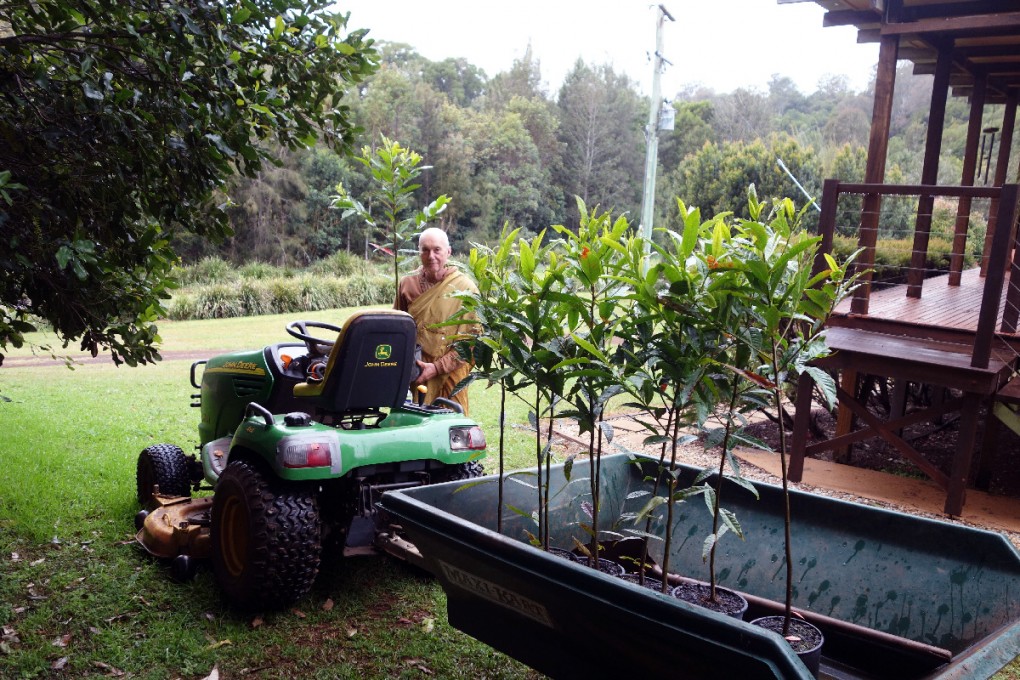 When we acquired the land it was very rundown and degraded, which required a massive effort to remove invasive weeds and trees in preparing the land for planting. As there was very little regeneration of the native rainforest we have had to resort mainly to revegetation.
This short video is a sample of revegetation at Bodhi Tree Forest Monastery with new plantings and views of endemic subtropical rainforest we have established since 2006.

Bodhi Tree Forest Monastery Koala Habitat Restoration
Since 2012, Bodhi Tree Forest Monastery has restored approximately 6 hectares as a viable Koala habitat. Of the 1500 koala food trees planted, the "Friends of the Koala" donated one thousand koala food trees, which are now thriving!
We now plan to extend the Koala Habitat to about another 10 hectares. In order to do so we need to maintain the current planting and remove invasive weeds to prepare for further plantings.
Bodhi Tree Forest Monastery is a volunteer based, not-for-profit registered charity under the umbrella of the Buddha Dharma Education Association Inc.
While we have very limited resources we have succeeded since 2006 in planting up to eight thousand endemic rainforest trees and cleared large area of the land of invasive weeds and trees to restore the wildlife habitat.
We have received valuable help in funding and expertise from the Enviro Fund, Lismore City Council, EnviTe and for a time the Green Army.
We now seek volunteer bush workers and funding to progress this project.
Please contact:
Ven. Pannyavaro (Pannya)
Founder & Resident Monk
Bodhi Tree Forest Monastery
78 Bentley Rd, Tullera NSW 2480
Email: venpannyava@gmail.com
Tel: (02) 6628 2426
Website: https://bodhitreemonastery.org/make-a-donation/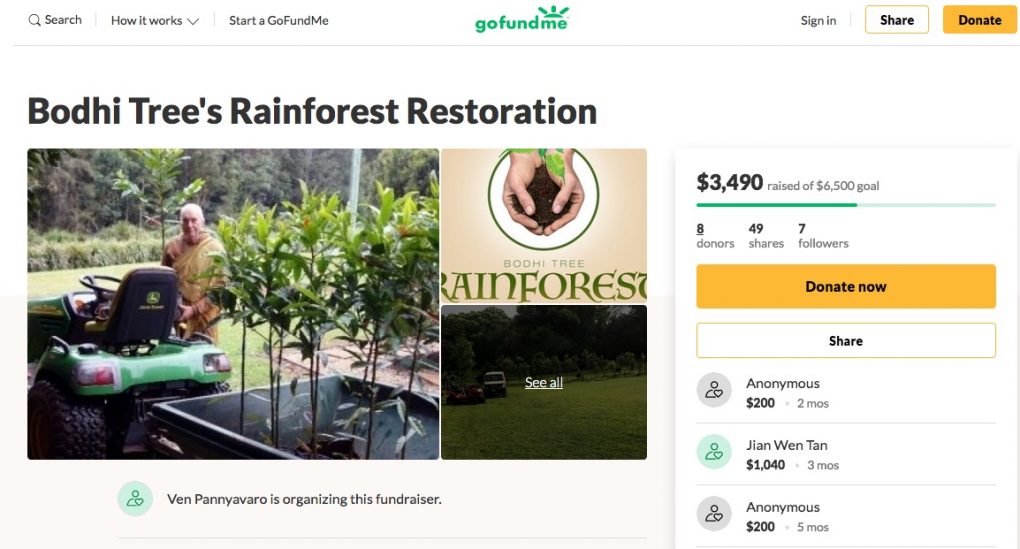 Go Fund Me All donations help us restore the endemic rainforest and provide much needed habitat for wildlife during this period of drought and unprecedented bushfire. Click the screenshot or the link to find out how you can help our unique refuge.
On acquiring the 95 acres (36.91 hectares) of land for a Buddhist Monastery and a Community Retreat Centre in 2006, our focus since then has been to restore the subtropical rainforest, which had been totally destroyed, leaving the land in a degraded state with just invasive trees and weeds.
More than 99% of the original subtropical rainforest in the Northern Rivers of New South Wales has been cleared since colonisation, leaving just remnants filled with endangered plants and animals. Our effort is and remains the on-ground restoration of critically endangered rainforest.
The land forms and tree cover at Bodhi Tree naturally divide the land making it easy for different activities to coexist here. From two streams with beautiful rock pools the land rises to a large flat plateau on which the new retreat complex is being built.
There is a good balance of cleared and reforested land with many impressive rainforest trees. The creek valleys have plenty of flat and gently sloping areas. The plateau of 15 acres of rich red soil has expansive and uplifting views and is a natural choice for the retreat centre, which we have now started to build.
The Rainforest Regeneration and Revegetation Project at Bodhi Tree
In 2006-2007, starting with a grant from the Envirofund, the Bodhi Tree Forest Monastery with the help of volunteers has been able to plant approximately 1,500 rain forest tree along our creeks and rock pools.
Since then we have extended our bush regeneration and revegetation project over the past seven years with the expertise of EnviTE assisted by the Green Army we have planted approximately 8,000 local rainforest trees, as well as koala food trees – donated by the Friends of the Koalas, including fruit and nut trees, which are now all thriving!
Bodhi Tree has received a $5k grant from the Lismore City Council's "Rural Landholders Initiative" project to extend our bush regeneration work and revegetating of endemic rainforest trees. So with that help we have planted another 1000 trees, to bring up our reforesting effort to approximately 8000 trees.