Third Stage of Bodhi Tree Monastery Retreat Centre Build
the 'Satipatthana Lodge' a Six-Bed Accommodation Unit
Permission has been granted to build a Retreat Complex in Eight Stages on 95 acres of land at Bodhi Tree. This includes the Meditation Hall, Dinning Room, Kitchen, a Teachers Cottage and Single Room Accommodation Units for forty-four meditators as well as a Shwedagon Pagoda replica.
The 1st and 2nd stages of the project are completed: a Multipurpose Hall,
the Pagoda and a 2-bedroom unit, with en suite and wheel chair access.
The 3rd stage of the Retreat Complex is the building of a 6-bed room accommodation unit. This gives us the capacity to accommodate meditators for ongoing retreats in the Satipatthana Vipassana tradition of Buddhism.
The funds needed for the 6-bed prefabricated accommodation unit is $AUS 168,000 plus $AUS 62,593 for an external bath house. It can be divided into a single donation of approximately 38k for a bedroom or two donors' offering 19k for one bedroom. The external bath house would be included in this cost.
In the Buddhist tradition, a plaque acknowledging your donation will be displayed in the donated room and a tax deducible receipt provided. Donators will have first preference of the use to their donated room during retreats.
Alternatively, a prefabricated 4-bed Accommodation Unit can be built at a cost of $AUS 105,000 with an external bathroom at $AUS 62,593. Both units 6 and 4 have existing water tanks, a wastewater system and solar installed.
We offer this unique opportunity for donors to make 'merit' by contributing towards this project, as your donation will benefit generations of meditators who come to practice Satipatthana Vipassana Meditation at Bodhi Tree.

Venerable Pannyavaro (Founder & Resident Teaching Monk)
Bodhi Tree Forest Monastery & Vipassana Retreat Centre
78 Bentley Road Tullera, via Lismore NSW 2480 Australia
Telephone: (602) 6628 2426 Email: venpannyavaro@gmail.com
Donations can be made at our website: https://www.bodhitreemonastery.org
A GOOD NEW YEAR TO ONE AND ALL
Trust new horizons open for you, and rediscover the strength within you to bring about positive changes with the New Year 2022.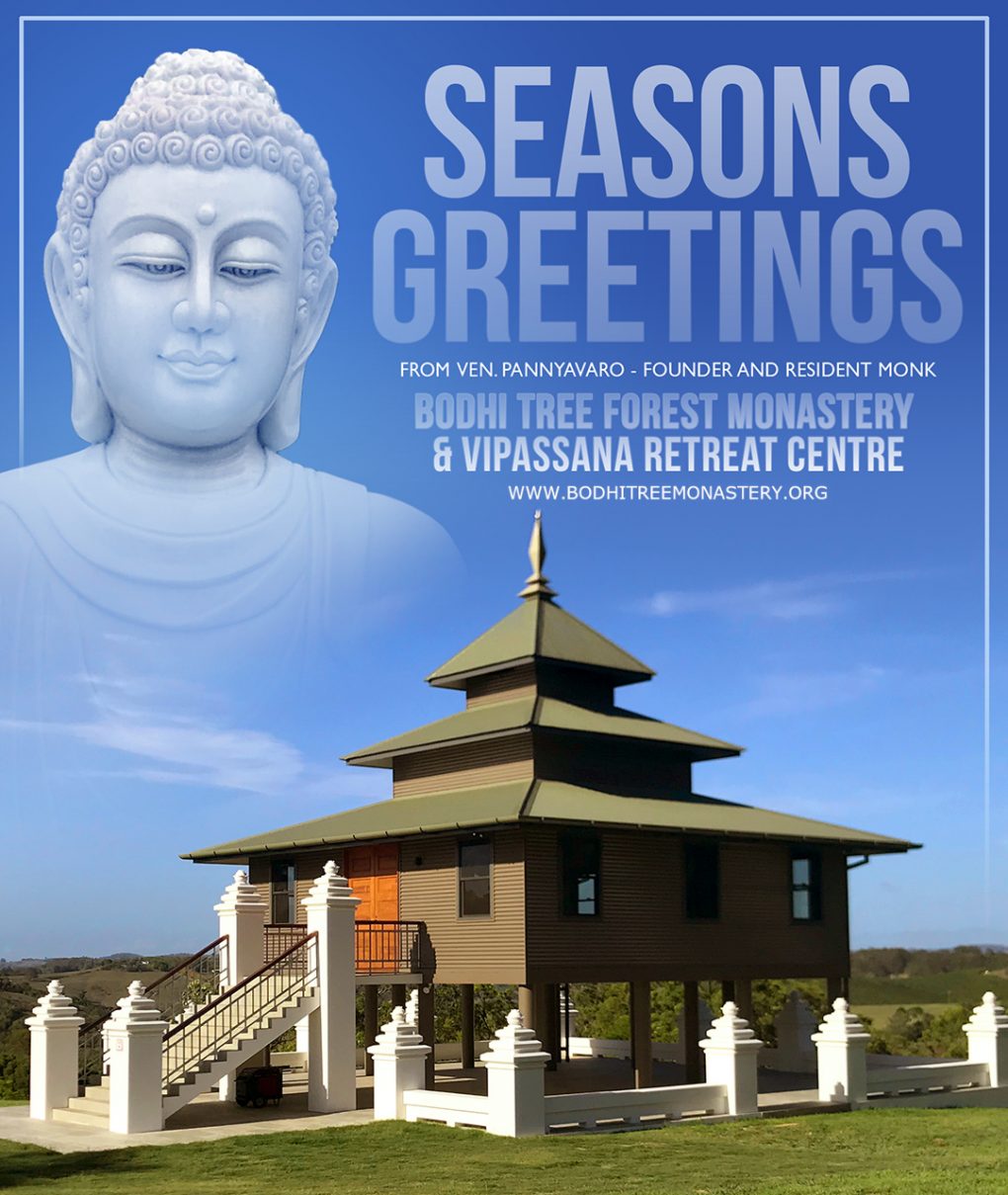 Shwedagon Pagoda Replica Dedication Ceremony slide show
Bodhi Tree Monastery Floods
Sima Hall Pagoda Construction
Vietnamese Community Fundraiser
Members of Sydney's Vietnamese Buddhist community came together earlier this year for a Bodhi Tree fundraising evening. It was a very successful night, the benefits of which will help us to make a start to the building of our new retreat complex.
Ven. Pannyavaro and the Bodhi Tree Retreat Centre team wish to thank all the volunteers who organised the night and the Vietnamese community for its generous support.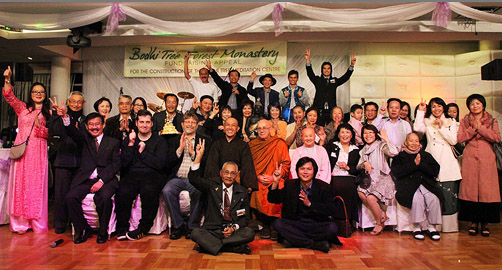 2022 – is our 16th Year at Bodhi Tree!

A National Geographic book: "Sacred Places of a Life Time – 500 of the World's Most Peaceful and Powerful Destinations" includes Bodhi Tree Forest Monastery.
Click the link to view the Bodhi Tree section

What we're doing at Bodhi Tree
We've been busy planting trees – totalling approximately 9,000 rainforest trees, koala food trees, fruit and nut orchards.
Completely renovated the old Retreat House.
Rebult the water system with extra storage tanks and pump.
Built a "contact database" – which will allow us to update past meditators on the latest news.
Dedication of Bodhi Tree Retreat centre by Venerable Sayadaw U Janaka as a Satipatthana Vipassana Retreat Centre.
Dedication Ceremony of the Shwedagon Pagoda Replica
Consecrated the Sima boundary, which allows us to conduct onsite ordinations and finished the Sima Hall build.
Finished our dedicated Disabled accommodation unit in the new Vipassana retreat complex – the first of forty-four units to be built.
Running a series of Mindfulness Meditation Workshops at the end of most months.
Conducting Well-Being in Nature Days at Bodhi Tree.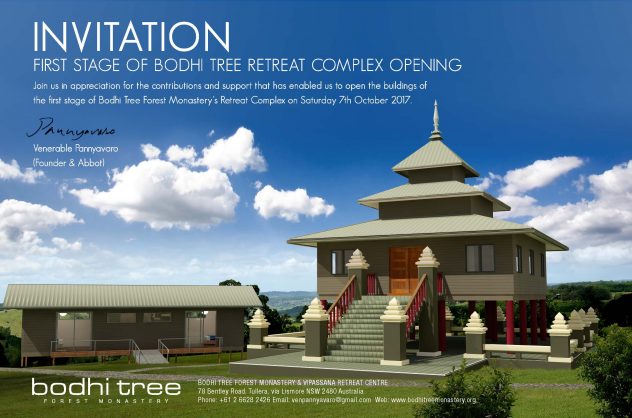 Invitation: 1st Stage of Bodhi Tree Retreat Complex Opening
7th October 2017
Here are Bodhi Tree's flowering rainforest trees and scrubs for your appreciation
Guests at the opening of the Sima Hall, being the 1st stage of Bodhi Tree's Retreat Complex, with Ven. Pannyavaro and distinguished guest Venerable Wei Wu from Than Hsiang Temple Penang.